Is declawing cats ever necessary? For people who have been badly scratched multiple times, seen their child injured, or who just can't seem to keep their cats from destroying their furniture, it might seem like the only option. Indeed, it is the easy option, but it's also cruel and inhumane. In this case, the easy option is also the worst option.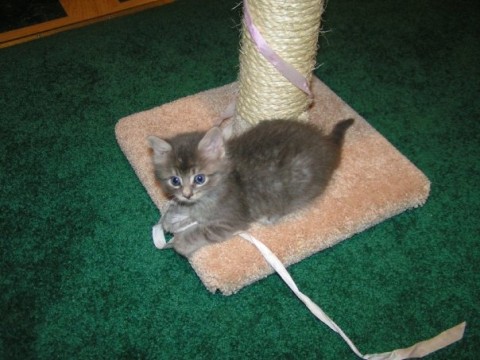 Why do cats scratch? Isn't declawing cats the best way to stop it?
Scratching is a natural behavior for cats. It's not just how they sharpen their claws, it's also one way they mark territory, and even how they stretch their backs and shoulders. When a cat scratches something, she's doing all kinds of things that are necessary for both her physical health and her mental wellbeing. Declawing cats doesn't stop any of this behavior, it just makes it easy to overlook, or even indulge
There's that word again: Easy. The easy way to deal with something often isn't the best way. Declawing is amputation, which, because it's unnecessary, is mutilation. Look at your index finger. You see the last joint and section, where your fingernail is? Imagine having that amputated from every finger, and both your thumbs. That's what declawing cats does. It takes that last joint off completely.
What are the possible side effects of declawing cats?
It's easy to think that the last bone on each of a cat's toes isn't really necessary, so declawing cats doesn't have any lasting effects. That's not true. Cats walk on their toes and need those joints and claws to help them walk properly. According to the Humane Society, it changes the way cats' feet hit the floor, rather like wearing an uncomfortable or poorly fitting pair of shoes. If you keep walking in those shoes, your feet, legs and back eventually begin to bother you. Cats can suffer from back pain and problems due to declawing.
Declawing cats can also cause them to suffer bone spurs, which are very painful. Furthermore, if the bone wasn't fully removed, the claws can grow back and be deformed and ingrown. That, too, will cause unneeded pain, and even infection.
If declawing cats isn't the answer, then what is?
Clipping her claws
You can handle your cat with all of her claws; you don't need to have her declawed to get her to stop damaging your furniture and shredding your arms and legs. The first thing to do is learn how to clip her claws (or you can take her to a groomer for this). Keeping her claws trimmed keeps them duller, and will go a long way towards curbing her ability to scratch you up. Click here for advice on how to clip your cat's claws.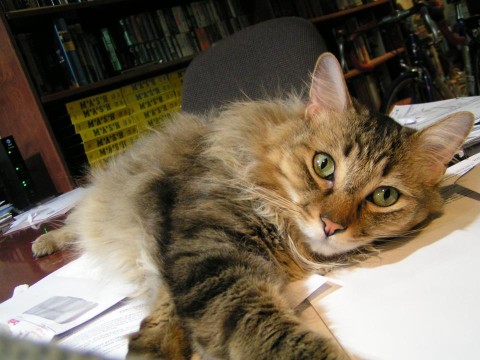 Make sure she has lots of surfaces she can scratch, and teach her to use them
You also need to make certain your cat has acceptable scratching surfaces, like posts, trees, flat scratchers, and even shelves, so she can engage in her natural inclinations to scratch without damaging your furniture (or your feet, legs, towels, etc.).
The best way to train her to use scratchers and trees is to combine positive reinforcement with environmental deterrents. Every time you see her go to scratch somewhere you don't want her scratching, gently pick her up and put her on the nearest scratching surface. Make sure you've got treats handy, and place a couple of treats on the scratcher for her to eat.
Then, gently press her front paws against the scratcher, to help get her scent on it, and then let her sniff around. Praise her, and give her a few more treats. If she doesn't like having her paws handled, or she runs off as you're trying to do this, don't force it. The absolute last thing you want to do is create negative associations for her, because you want her to scratch these surfaces.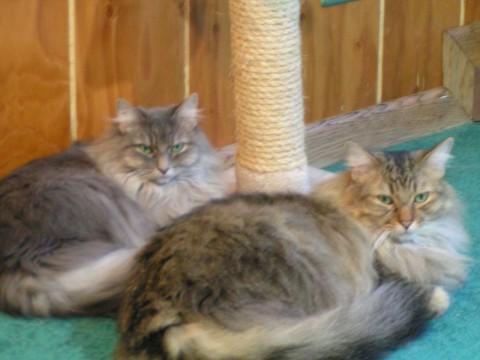 Keeping her from scratching up your furniture
You can also use things like sticky tape on the surfaces you don't want her to scratch. Most cats don't like sticky tape, and will avoid after experiencing it a few times. This is having the environment train her, so she associates the deterrent with that particular part of her environment, rather than you. This is the best way to get her to stop scratching your furniture altogether, instead of just waiting until you're not around to do it.
If sticky tape doesn't work, you can try other things your cat might find annoying. Avoid using squirt bottles, or snapping, clapping, or otherwise startling your cat. When she's engaging in natural behaviors, frightening her can ultimately stress her out, because she's scared to act on her instincts. One of the biggest keys to keeping cats happy is allowing them to engage in as many natural behaviors as possible.
Is there ever a time when declawing cats is acceptable?
The only time you ever want a claw removed that way is when it's for the good of your cat, such as a claw that's become infected and necrotic, has a tumor or painful cyst that can't be effectively treated any other way, or is deformed and causing problems. However, that's generally removing a single claw, and not all the claws on each toe, and is done for a far different reason than our convenience.
Training cats this way isn't an easy, or short, process. It requires a lot of love, and a ton of patience. However, the alternative—declawing cats—is far worse. It's so bad that some states are working on banning the practice of declawing cats altogether, and many cities and towns have already done so. There are so many other ways to handle cats' claws than declawing them.
A final note: If you know people who have declawed cats, the best way to ensure that they don't keep doing it is to gently educate them on the issue, and provide them with alternatives. Some people may have gotten their cats declawed before they knew what it was, some may still not know despite the growing wealth of information on it, and some may know but still believe it's the only answer. Gentle education works better than scolding or judging – these will only make them dig their heels in on the issue.