Many of us look for a lot of different ways to help our feline friends stay entertained while we're away from the house for hours on end, or we have special beds for them so they have their own places. Oftentimes, this takes the form of cat furniture cat trees, condos, etc., so they have things to climb on, hide in, and sleep in on their own.
City living is not conducive to cat furniture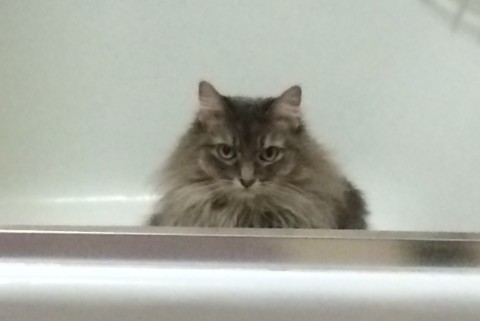 But city living can be a problem for cat furniture. I live outside of Chicago in a single-family house. Granted, it's small, but it's not nearly as small as some of the places closer into the city and within the city itself. We have room for scratching posts and cat trees here.
However, if you live in an apartment, flat, or condo, it's likely that you just don't have the room for a lot of cat furniture and toys around your place. City living often means that space is at a premium. So, if you live in a small space, what do you do to make it as interesting as possible for your cat?
If you're looking for something other than a standard cat bed to put in your home, consider trying a Cat Crib Hammock. You can attach this to a chair's legs and provide a comfy bed for your cat where she can feel safe. I personally have never tried these, but I have considered getting one or two.
It also doesn't have to be actual furniture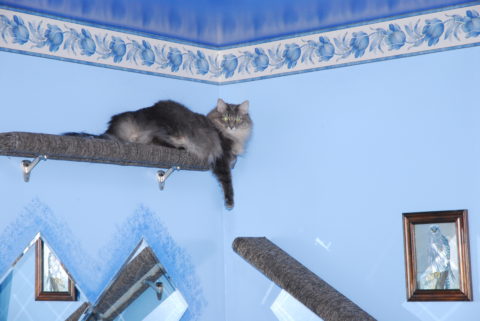 For climbing, instead of a bulky cat tree, consider installing shelves in various rooms. We built our own out of 2×6 boards, stair rail brackets, and scrap carpeting from Home Depot.
The best way to do this is to start with a shelf low enough onto which your cat can jump at an angle no steeper than 30 degrees. That's so your cat feels like she's climbing, but is still comfortable enough to run.
Where you take it from there is up to you and your cat. As long as you anchor the stair rail brackets into studs, the shelves are more than sturdy enough for your cats. The stair rail brackets also take up much less room on the wall than standard shelf brackets.
These shelves may also help keep her from climbing on your furniture and knocking things off. Because they're specifically for her, you may be able to train her to stay off your furniture more easily because she'll have her own sets of shelves that cater to her climbing instinct.
Our cats love their shelves. We have three cats and enough space on the shelves for them to climb up high and get away from each other. They like to survey their domains, sleep, and even eat their meals on these shelves. I highly recommend them if you can put holes in your walls.
Some of it can even pull double duty
If you like plants but don't like it that your cat knocks the pots over repeatedly, or you have to choose between planters and cat furniture, a planter from Pets Best Products might help. This particular planter is modern and stylish, and has a space inside for a cat bed. You can have your larger planters and your cat beds without sacrificing too much space this way.
I personally would love some of those planters, but I seem to have a brown thumb.
Long story short, there are tons of options for people living in small spaces with their kitties. A small space doesn't mean you can't have much cat furniture – it just means you have to get creative with it.