I swear I have a cat with a sweet tooth. Whenever I'm eating things like sugar cookies, donuts, or cake, Kali is all up in my face, trying to get my food off my plate, out of my hand, and she even sniffs at my mouth if I don't let her have anything. If I drop a crumb? It's like dropping a piece of steak or chicken – she is all over it like a vacuum cleaner. Cats are strict carnivores, so what is the deal here? Do cats have sweet teeth?
Science is actually working to answer the question, "Do cats have sweet teeth?"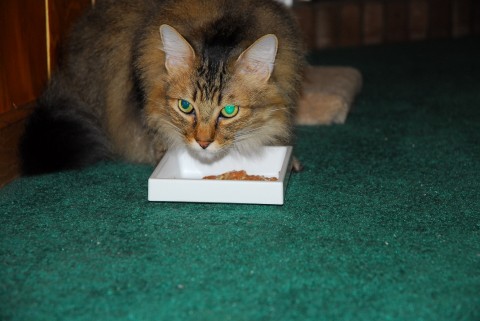 Well, according to Scientific American, no. Cats literally have no way to taste sweetness at all, unlike most other mammals. They don't have the taste receptors necessary to taste sweets, apparently:
"They don't taste sweet the way we do," says Joe Brand, biochemist and associate director at the Monell Chemical Senses Center in Philadelphia. "They're lucky. Cats really have bad teeth as it is."
Okay, so what's the deal with Kali, then? What is it that she tastes or smells in sweets that she absolutely must have?
Some scientists, like those quoted in Scientific American, argue that it's not so much that cats have sweet teeth as it's possible that they might be able to taste very high concentrations of sugar. If that's true, then cats that are more sensitive to sweetness—even if they don't taste it the way we do—will try and eat our amazing sweet treats.
Maybe it's not the sweetness they're after, though
Others arguing against the idea that cats have sweet teeth believe that it's not the sweetness they want, but rather, they're going after the fat. Indeed, things like cake, donuts, sugar cookies, and especially frosting, aren't just high in sugar, they're high in fat. Cats' taste receptors are geared to taste fat, so there's a chance that's what they're after.
So, do cats have sweet teeth? Science says no, but there's so much anecdotal evidence that suggests otherwise that I'm not sure there's a definitive answer here. And I wholly believe that Kali has a sweet tooth or three.