Experts talk a lot about the need for interactive playtime, which is when you play with your cats using toys. Waving a wand around, or rolling a small ball across the floor, are great ways to play with your cat, and help enrich his life. However, cats amuse themselves, too, and watching cats amuse themselves is, well, amusing. It can also provide a different type of enrichment for your cat.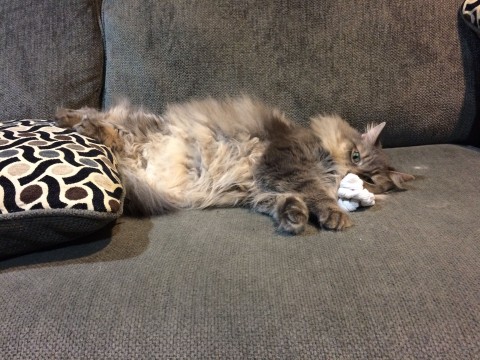 I have no idea about anybody reading this blog, but I love watching my cats amuse themselves. To me, it's hilarious. They still get their interactive playtime, but all four of them are capable of finding something with which to amuse themselves. Sometimes, their antics are the best thing for me when I'm feeling low, because they're so silly about their personal playtime that I can't help but laugh.
Watch Chase quietly amuse himself with the little foam ball off a microphone boom below:
Cats amuse themselves because they have imagination
It's amazing the imagination that pets have, and how easily cats amuse themselves. Linda Cole, writing on Canidae, not only swears that her cats spy on her neighbors (I'm pretty sure mine do, too), but she also says that one of her cats would take the end of a new roll of toilet paper and wind it around the house. She always managed to do that without tearing it, but since she'd wind it around the legs of tables and chairs, that must have been so much fun to clean up.
Sometimes I'll find Kali up on top of the refrigerator when there's a bug crawling on the kitchen light. She never jumps for it (I think she knows she can't make it), but she'll sit there until she's sure the bug is gone. I've seen her sit up there, as straight and alert as possible, for an hour before she was sure the bug was gone.
Cats will always need interactive playtime; it's never a good idea to assume that they can always amuse themselves. But when you're lucky enough to see cats amuse themselves, it's a treat for both you and them.